ANNOUNCING A NEW BREAKTHROUGH IN HOME MOLD TESTING!
A NEW INEXPENSIVE MOLD TEST CALLED THE IAQ PRO 5 MINUTE HOME MOLD TEST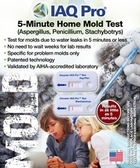 IAQ PRO 5 MINUTE HOME MOLD TEST
A Note From The Doctor
I JUST WANTED TO SEND THIS LETTER OUT AS SOON AS I FOUND OUT ABOUT THIS BECAUSE EVERYONE WHO HAS DEALT WITH TOXIC MOLD AND IS CURRENTLY DEALING WITH TOXIC MOLD IN THEIR ENVIRONMENT NEEDS TO KNOW ABOUT THIS TEST!!
THIS TEST CAN TELL YOU INSTANTLY IF YOU ARE DEALING WITH THE VERY HARMFUL STACHYBOTRYS MOLD SO YOU CAN GET OUT OF THAT ENVIRONMENT BEFORE YOU GET TOO SICK!!!!!
IT IS A SWAB TEST SO IF YOU HAVE VISIBLE MOLD JUST SWAB IT AND TEST IT AND YOU WILL KNOW INSTANTLY IF YOU HAVE STACHYBOTRYS AND IF YOU SHOULD GET OUT OF THAT ENVIRONMENT.
AND PART OF THE GOOD NEWS IS THAT IT DOES NOT COST A SMALL FORTUNE.
NOW YOU CAN KNOW INSTANTLY IF THE MOLD GROWING IN YOUR HOUSE IS HARMFUL STACHYBOTRYS AKA BLACK MOLD! THIS IS GREAT NEWS! WITH THE SAME TECHNOLOGY AS A PREGNANCY TEST YOU GET FAST AND ACCURATE RESULTS.
Unlike traditional home mold kits on the market, the IAQ Pro 5-Minute Home Mold Test kit gives you the ability to sample and specifically screen for unhealthy molds due to water damage (both seen and unseen)...in just a few minutes. All without the initial delay and expense of a hiring a professional mold inspector. No more waiting days for something on a culture plate to grow and no need for "optional" $30 lab fees to find out whether what's growing is unhealthy or not. After the expense of multiple culture plates and hidden lab fees, those so-called "low budget, do-it-yourself" send-in mold tests are neither low-budget or do-it-yourself!
So, what's different about IAQ Pro?
IAQ Pro represents a significant advance for in-house mold tests. In brief, we have adapted laboratory-grade test methods for the non-technical user along with technology licensed from the United States Government*. By employing highly accurate lateral-flow antibody tests (well known to the medical industry as hand-held assays) the IAQ Pro product line offers cost-effective, professional-quality tools for the public benefit. Molds most associated with toxins and indoor air problems, such as aspergillus, penicillium and stachybotrys, are specifically detected by the IAQ Pro 5-Minute Home Mold Test. If you are concerned about your family's health or a do-it-yourself person with a mold contamination concern, you should seriously consider ordering the IAQ Pro 5-Minute Home Mold Test kit. Read on to learn more...
Includes:
1 Asp/Pen Rapid test
1 Stachybotrys Rapid test
1 All-in-One Collection Swab
(Optional) Lab Request Form and postage-paid mailer
2 Polyester swabs for lab samples
Instructions-for-Use



AVAILABLE FOR 32.00 WITH FREE SHIPPING at
www.toxic-black-mold-syndrome.com
CLICK ON THE LINKS BELOW TO LEARN MORE
BLACK MOLD TESTING MOLD HELP STORE 1

---
THIS IS A GREAT BREAKTHROUGH IN TOXIC MOLD TESTING!