Good Evening


TODAY IS THE FIRST DAY OF SPRING AND TIME FOR SPRING CLEANING!
HOW TO MAKE YOUR OWN NONTOXIC CLEANING PRODUCTS AND SAVE MONEY
Discover the Secrets
to Making your Own
Natural, Safe & Cheap
Cleaning Products
Support the Health of Your Family,
Save Yourself Money, and
Save the Environment
at the Same Time !

Learn how to make 'green' cleaning products for all the
rooms of your home with everyday household items
52 PAGES……of proven cleaning recipes using
Natural Basic Ingredients from the Kitchen
And Essential Oils.
NO CHEMICAL OR TOXIC INGREDIENTS !!

ALSO IN THIS BOOK:
◾ Which plants help to reduce the amount of pollutants in the home (page 03)
◾ What types of furniture are more home-friendly (page 03)
◾ The basic kitchen ingredients to get you started (page 08)
◾ The powerful anti-bacterial properties of essential oils (page 10)
◾ The 'quick start guide' to Natural, Safe & Cheap Cleaning (page 13)
◾ A General Purpose Spray Cleaner that is Natural, Safe & Cheap (page 15)
◾ An effective & natural Bathroom Mould Cleaner (page 16)
◾ Powerful Kitchen cleaning remedies- safe for you & your family (page 17)
◾ A natural Floor Cleaner (page 18)
◾ 2 Kitchen Sink remedies (page 20)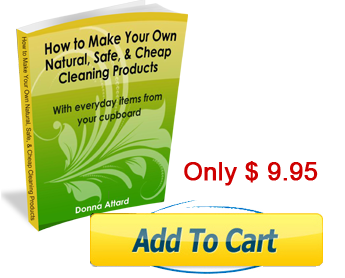 ---
---
---
---
---
---
HAPPY SPRING CLEANING!
Dr. Mary Ray DO