Good Morning,


YOGA FOR HEALING by TERA BUCASAS
WHAT MAKES YOGA FOR HEALING DIFFERENT?
It's easy to find yoga, it's not as easy to find yoga specifically for those on a healing journey. So much of the popular yoga out there emphasizes power, intensity and sculpting.
Yoga for Healing is a holistic practice that addresses the mind, body and the soul. We allow our bodies to build strength gently while working to heal our nervous system and mental space.
In short...with Yoga for Healing you will: build strength, enhance joint movement, gain flexibility AND relax, modify and take things at your pace.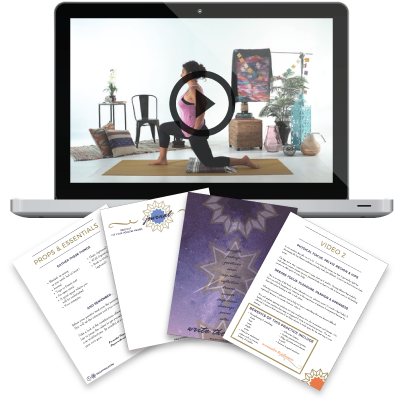 WHEN YOU PURCHASE YOGA FOR HEALING, YOU RECEIVE INSTANT ACCESS TO:
7 UNIQUE VIDEOS:
Each one has a different physical focus, exploration of a deeper aspect to healing and an intention setting introduction video.
A 25 PAGE WORKBOOK (in PDF format), to guide you through practice on and off the mat, that includes:
POSTURE LIST AND MODIFICATION VIDEOS:
Safety is very important to me! You have access to modification videos for various postures, and posture lists for all 7 practices that describes modifications and contraindications.
FOCUS SHEET:
Each yoga practice has a focus sheet that outlines our physical and deeper focus, as well as the abundant benefits the practice will bring you.
JOURNAL:
Taking our yoga off our mat into everyday life is an important part of practice and journaling is a great tool for doing this.


YOGA for HEALING IS FOR YOU IF:
You want to explore a more gentle style of yoga
You are recovering from an illness
You would love to have a down to earth yoga instructor that doesn't take herself too seriously (I can be pretty silly!)
You are ready to take this next step toward your health and happiness

CLICK HERE TO WATCH THE VIDEO AND LEARN HOW TO ORDER THE VIDEO PROGRAM YOGA FOR HEALING



---
WISHING YOU GOOD HEALTH,
Dr. Mary Ray DO