TESTING FOR BLACK MOLD IN HOUSES
There are many ways to perform testing for black mold in houses. I encourage you to read through all 4 mold tests carefully before you decide which one will work best for you.
Black-mold-testing of your environment is the next important step you need to do once you have determined that you have some of the symptoms that could be symptoms of black mold poisoning. You need to get the right test that will be most likely to give you an answer. If you are having trouble determining which test would be best for your circumstances, consider getting a phone consult with Dr. Ray. Go to the Phone Consults webpage in the Mold Help Store.
There are 4 ways that we recommend on this website to perform testing for black mold in houses.
The first way is the easiest and most economical. It is swab testing for mold. You have to be able to see the mold so you can swab it.
The best swab test is The IAQ Pro 5 Minute Home Mold Test which can positively identify stachybotrys or aspergillus/penicillium in minutes.
THE NEW IAQ PRO 5 MINUTE HOME MOLD TEST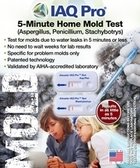 Unlike traditional home mold kits on the market, the IAQ Pro 5-Minute Home Mold Test kit gives you the ability to sample and specifically screen for unhealthy molds due to water damage (both seen and unseen)...in just a few minutes.
Click here to learn more and to order
CLICK HERE TO SEE PICTURES OF MOLD DAMAGE
---
The next best swab test is the Instant Mold Test. This test gives an instant answer to the question "Is this mold?" and has 5 tape lifts to get 5 samples to send off to a lab for further identification (additional fees apply).
THE INSTANT MOLD TEST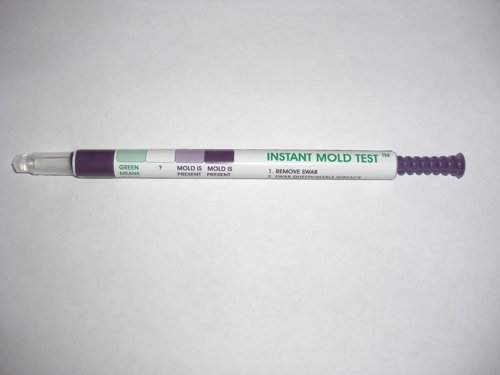 First, locate an area of questionable mold growth. It could be a black, green or whitish area on wood, drywall, carpet, cement, stone or a painted surface.
SIMPLY pull the swab out of the tube, swab the questionable area, place the swab back into the pen and push the swab through to the liquid filled capsule and wait ten minutes.
There is a chemical in the capsule that turns purple in the presence of mold. If it does not turn purple, it's not mold. If it does turn purple you have mold. It is as simple as that. Within a few moments you will know if the area in question is in fact growing mold.
Now if you want to go a step further, you can take the tape lift included in this kit, follow the directions to do a tape lift of the moldy area and send that sample in to IMS labs to have it analyzed to determine what type of mold it is. You will have to send in 30 dollars to have each tape lift analyzed but that is optional.
Click here to learn more and to order
---
AIR QUALITY TESTING USING AIR PUMPS AND SPORE TRAPS

THE NUMBER ONE TEST TO USE WHEN MOLD IS NOT VISIBLE IN YOUR HOME
Air Quality testing using spore traps is another way of testing for mold in your house.
Air quality testing uses special equipment to pump air through a container that traps mold spores. This container is called a spore trap.

Let me explain air quality testing for I believe it has am important place in the world of mold testing. It is the test that gave me my answers as to why I was sick. So, it can be very useful and often it is the first test I recommend people to try especially when mold is not visible in the house.
This is also the testing that mold inspectors use when they come out to test your house. However, when a mold inspector tests your house it can be thousands of dollars, when you could get the same results for much less expense with the Examinair Mold Test.
For the average person who is just trying to figure out if mold is in their environment, and they do not see any visible mold to swab, the Examinair Mold Test is the best test to use because it uses spore trap technology to collect mold spores from the air, so you can find out what exactly you are breathing in, in your environment.
EXAMINAIR MOLD TEST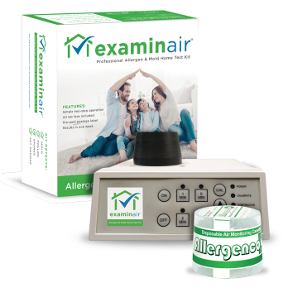 This test can be purchased on this website in my mold help store for 450.00 which includes shipping and handling.
Examinair is a do-it-yourself home test that is very easy to use, the most accurate way to check your air quality and much cheaper than what it would cost to have a mold inspector do the exact same testing.
Click here to learn more and to order
---
---
There are two types of air quality testing for mold, viable and nonviable testing.
Viable mold testing only tests for live molds and tests for live spores. This type of testing is much more expensive and is used to determine if there is mold that is living in a building.
Nonviable testing counts spores both living and dead. This testing is the best one to start off with because you will want to know if you are breathing in dead spores as well as live ones. Dead or alive, spores contain mycotoxins and are dangerous to breathe in.
Also nonviable testing is much more reasonable as far as cost is concerned. It is also easier because the spore trap container does not have to processed immediately.
For the purposes of this website, only nonviable testing will be presented. There are times when viable spore trapping is desirable and this would require a mold professional to perform this type of testing.
---
ERMI DNA MOLD TESTING
IF YOU WANT A DEFINITIVE MOLD TEST THAT WILL GIVE YOU THE FINAL ANSWER TO THE BURNING QUESTION, "DO I HAVE A MOLD PROBLEM IN MY HOUSE?"; THIS IS THE BLACK-MOLD-TESTING KING!
It used to be thought that the best way to test your environment for toxic mold is with air quality testing. However, as I discuss later on, air quality testing can sometimes be inaccurate. The new ERMI test is now the definitive test.
Air quality testing using spore traps have one major flaw. If you do not happen to take a sample when the mold in your house is releasing its spores you may get an inaccurate sample of your house leading you to believe your house is OK!! It has been documented that molds release their spores at certain times of the day. There have been cases of air quality testing being completely different from one hour to the next. There is no information on when molds release their spores. Perhaps different types have different schedules or it may be sporadic or depend upon atmospheric conditions.
Click here to learn more and to order
---
To learn more about the ERMI mold test go to ermimoldtest.com
---
FACE MASKS TO PROTECT YOURSELF FROM TOXIC MOLD
3M Mold Remediation Respirator Kit 68097, Medium (Includes a 3M Full Facepiece 6000 and two pairs of 3M Particulate Filters 2097, P100)
by 3M Personal Protective Equipment
---
NEW PREDICT VOC (MYCOTOXIN) TEST FOR YOUR HOME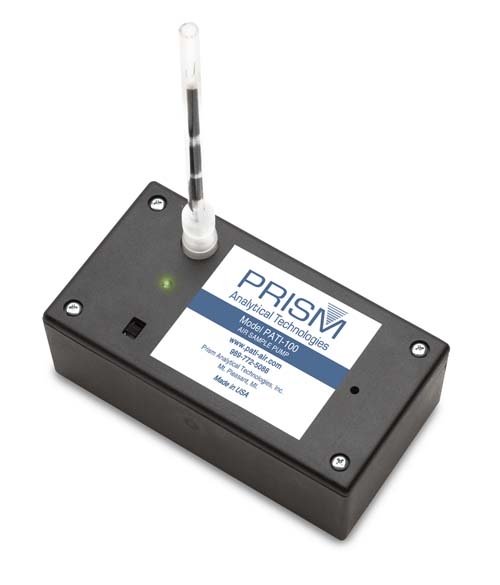 The PREDICT™ VOC Screening Test Kit provides a simple, economical screening of indoor air quality by testing for total levels of Volatile Organic Compounds (VOCs) and Mold VOCs (actively growing mold behind walls or carpeting). These two index numbers are excellent indicators of the overall indoor air quality of a home. What are VOCs? VOCs are chemicals that are emitted as gases from solids or liquids and easily evaporated into the air at room temperature. Concentrations of these chemicals can be up to 100 times higher indoors than outdoors. Thousands of products, many that we use or are exposed to every day, emit VOCs into the air while they are being used, and even when they are stored. All VOCs have the potential to be harmful, and there are even a few common VOCs that can be particularly dangerous to our health. Symptoms such as frequent headaches, dizziness, fatigue, nausea, coughing, wheezing, and eye, nose and throat irritation can be indicators that the quality of air in your home is poor - especially if these symptoms subside once you leave the house. Other more serious health problems that can arise with poor indoor air quality are asthma exacerbation, digestive problems, and damage to the liver, kidneys and central nervous system. Some air contaminants are so harmful that they can even cause cancer.
Benefits of the PREDICT™ VOC Screening Test
Predict Test Kit
Quickly determine total levels of harmful indoor air pollutants, including hidden mold - the only test of its kind on the market
Receive information on potential sources of air contamination
One test covers up to a 2,000 sq. ft. area
Specific IAQ problems can be identified with optional 350+ VOC compound analysis, without taking another air sample (additional cost incurred)
Receive expert consultation for interpreting the test results or suggestions for improving indoor air quality
Click here to learn more and order 
HEALTHY LIVING IN A TOXIC WORLD
NEWSLETTER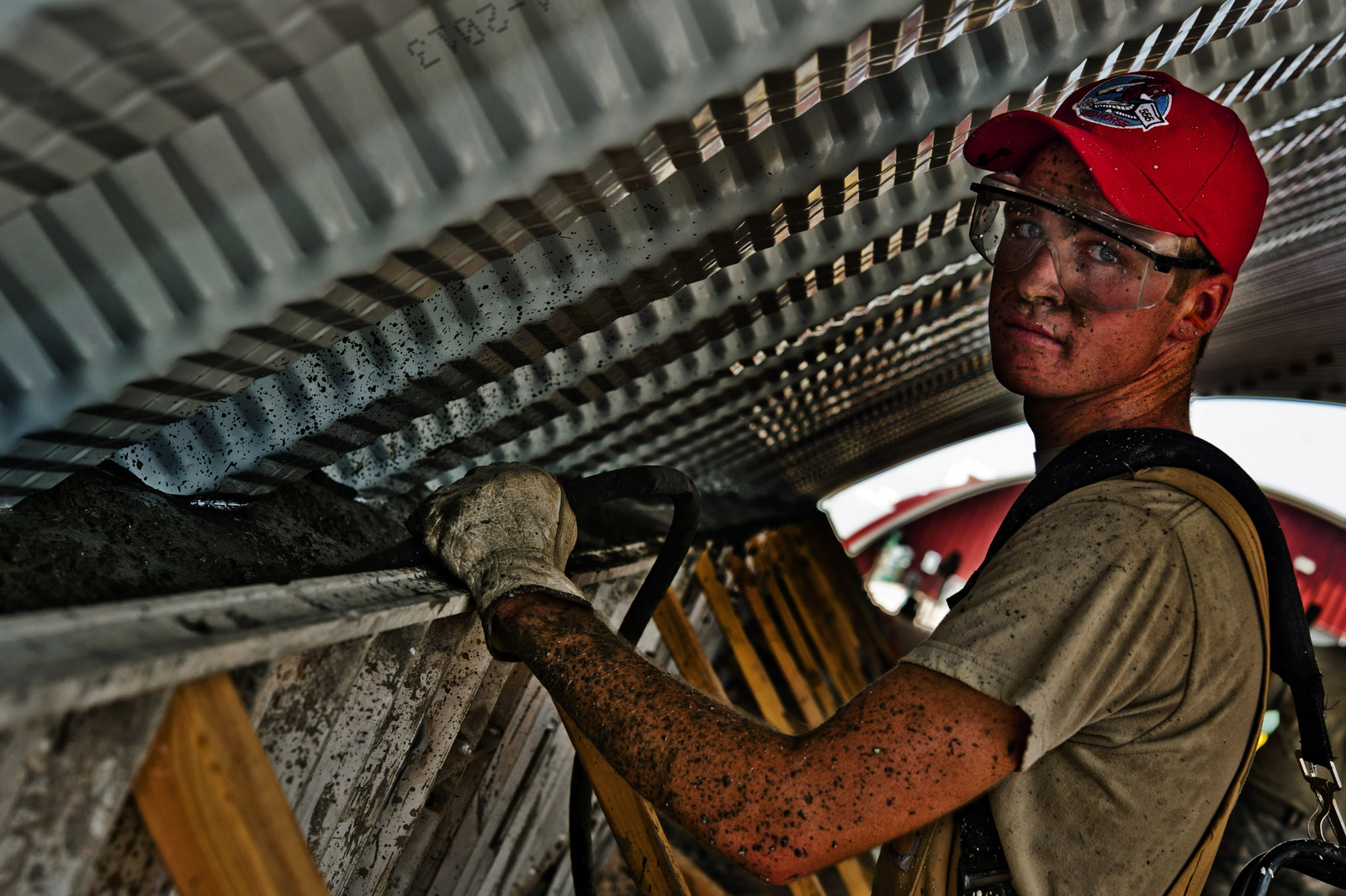 FOR A FREE CONSULTATION ON MOLD REMEDIATION OR REMOVAL IN YOUR AREA (For FL, CA, NY, NJ, MD, VA, and DC)    CALL
1-888-808-6405