Good Morning,


Air Exchangers Improve Air Quality
Air exchangers, also known as ERVs change the air in your house several times daily by pulling fresh air in and expelling old stale air out. Most people do not realize that most HVAC systems just recirculate air through their houses and never pull fresh air in.
There are so many pollutants in our houses that, when allowed to build up and concentrate in our houses, can make us sick. Cleaning products, formaldehyde in carpets, hardwood floors, furniture and building materials, radon gas from rock formations below the house, chemicals in carpets, gasoline cans and propane cans in the garage, paint cans, and mold spores and mycotoxins from hidden mold are some of the things in our houses that can build up in the air and make us sick.
It is very hard if not impossible to control all of the things in our house that can emit toxins. Most hardwood floors and building materials and furniture contain formaldehyde. Many houses are unknowingly built on rock formations that emit radon gas that can increase your risk for lung cancer as much as cigarette smoke. Many people store gasoline in their garage to mow their lawn. It's really hard to not have cleaning products in your house and it's nearly impossible to control all the mold growth in your home because much of it is hidden.
Recent research has brought the toxicity of home air to light as a significant problem in today's world. In the United States most people have HVAC systems that recirculate stale toxic air. Many people are becoming educated and deciding to choose to add an air exchanger onto the HVAC of their new houses while the house is under construction. Most air exchangers installed today are on new construction because it's easier to just install them into new houses to begin with. In Canada, building code requires every building including residential houses to include an air exchanger to be installed into the HVAC system.
By the way, I think the Ultimate Air Recouperator is the best air exchanger and if you click on the link below, I will give you all the reasons why.
But, wouldn't it be great to breath in fresh air in your house every day of your life instead of stale toxic air?
You can create a simple air exchange in your house for free by opening a window and turning on an exhaust fan in a bathroom. If you put a fan, blowing in, in the window, it will be even more effective.
But in the summer or winter, temperature extremes make this difficult to do.
That is why air exchangers are a better way to go because they exchange the air without affecting the temperature or humidity of the house and since it is running all the time you don't have to bother opening windows and turning on fans. It is just fresh air all the time without having to think about it. Wouldn't that be a great New Year's resolution to make….to breath in cleaner air all year?
Couple an air exchanger with an Austin Air purifier and you will be breathing in pristine air that is sure to make you healthier. Austin Air purifiers remove any stray mold spores, mycotoxins, dust, formaldehyde, pet hair, and pollen from the outside air with their top of the line HEPA and carbon filtration system. Austin Air air-purifier's filters have a 5 year life, so the maintenance is minimal.
Remember, you eat and drink 3 or more times a day, but you breath in air every second of the day, so shouldn't the air you are breathing be even more important than the food you eat and the water you drink? We are so careful about what we drink and eat most of the time, but are less careful about the air we are breathing.
Let's make this the year of cleaner air for our best health ever!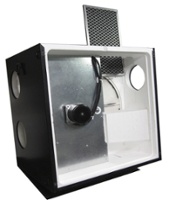 ULTIMATE AIR RECOUPERATOR
CLICK HERE TO LEARN MORE AND TO LEARN HOW TO ORDER AN AIR EXCHANGER FOR YOUR HOME






AUSTIN AIR HEALTHMATE JUNIOR $375
CLICK HERE TO LEARN MORE AND TO ORDER AN AUSTIN AIR PURIFIER

---
WISHING YOU GOOD HEALTH,
Dr. Mary Ray DO