THE ALKALINE DIET TO DETOX FROM MOLD
Toxicity from exposure to toxic mold causes the body to tend to be very acidic. It is something your body has to work extra hard at in keeping the body ph within a narrow range. Mold toxins cause inflammation and inflammation seems to create an acidic condition in the body.
Toxic mold victims often notice that their teeth have demineralized. Also, because calcium is used to buffer this acidity, your body often robs your bones for the calcium needed to buffer the acidic condition.
I do know that when I was exposed to mold, if I ate a more alkaline diet, I felt a lot more well and energetic.
It is a diet that takes a little bit of work in cleaning and preparing lots of fresh fruits and vegetables.
For me there has been a lot of evidence that an alkaline diet might help those exposed to toxic mold to detox easier and faster.
Juicing greens seems to be the most beneficial part of an alkaline diet. To me a tall glass of juiced greens is like drinking a cup of coffee. It wakes me up an energizes me for a good 4 to 5 hours.
If you are interested in learning more about how to do an alkaline diet, click on the link below to get more information on a good E-book that I purchased recently that is everything you need to know about an alkaline diet plus recipes.

"ACID ALKALINE BALANCE DIET" EBOOK
TO WATCH THE VIDEO CLICK ON THE LINK BELOW.
Click Here!
---
---
---
FOR THE BEST BLENDERS THAT ARE COMPARABLE TO THE VITAMIX CLICK ON THE LINKS BELOW
---
AND THEY SELL REFURBISED MODELS FOR HUGE DISCOUNTS! CLICK ON THE LINK BELOW TO LEARN MORE!
---
Blendtec Designer Series Certified Refurbished
ALKALINE DIET RECIPES
For those of you that are wondering what to eat on an alkaline diet, check out this recipe book.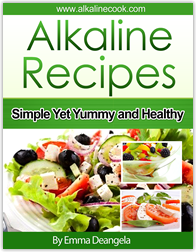 To watch the video presentation about this book

Click Here!
---
---
---
---