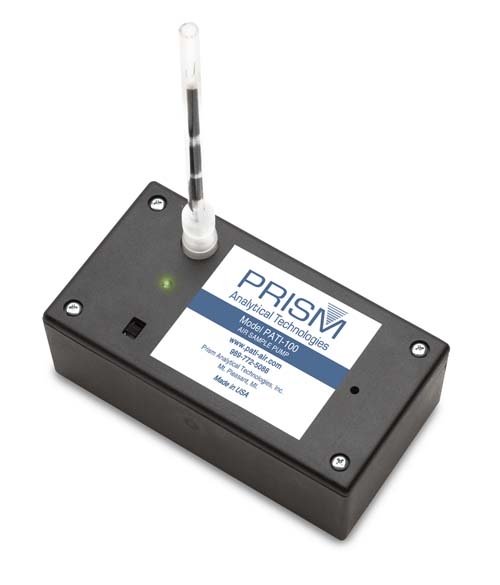 Benefits of the PREDICT™ VOC Screening Test
Quickly determine total levels of harmful indoor air pollutants, including hidden mold - the only test of its kind on the market

Receive information on potential sources of air contamination

One test covers up to a 2,000 sq. ft. area

Specific IAQ problems can be identified with optional 350+ VOC compound analysis, without taking another air sample (additional cost incurred)

Receive expert consultation for interpreting the test results or suggestions for improving indoor air quality
 The PREDICT VOC Screening Test, the REVEAL™ Comprehensive VOC Test gives an excellent assessment of overall indoor air quality. However, the REVEAL test goes even further by providing detailed answers to questions of "What's in my air?" The REVEAL test surveys over 350 Volatile Organic Compounds (VOCs) in the air with a single sample (covering approximately 2,000 sq. ft.).
With its extreme sensitivity in the parts per trillion range, the REVEAL test is particularly useful when investigating odor concerns.
What are VOCs?
VOCs are chemicals that are emitted as gases from solids or liquids and easily evaporated into the air at room temperature. Concentrations of these chemicals can be up to 100 times higher indoors than outdoors. Thousands of products, many that we use or are exposed to every day, emit VOCs into the air while they are being used, and even when they are stored. All VOCs have the potential to be harmful, and there are even a few common VOCs that can be particularly dangerous to our health. Symptoms such as frequent headaches, dizziness, fatigue, nausea, coughing, wheezing, and eye, nose and throat irritation can be indicators that the quality of air in your home is poor - especially if these symptoms subside once you leave the house. Other more serious health problems that can arise with poor indoor air quality are asthma exacerbation, digestive problems, and damage to the liver, kidneys and central nervous system. Some air contaminants are so harmful that they can even cause cancer.
$500 with free shipping
An air sample can be collected in 3 to 4 hours and covers an area of approximately 2,000 sq. ft. The sample is then sent to our Nationally accredited Laboratory for analysis. Reports from your analysis will tell you if your total VOC levels are within a safe, acceptable, or elevated range, and what the possible sources of contamination are. If levels are determined to be elevated and there is a desire to identify exactly which VOCs are present in the air, an additional analysis can be performed at the lab, for an additional fee. There is no need to take another air sample.
With PREDICT, you can receive a total assessment of the air you and your loved ones breathe everyday - simply, safely, and economically.
The REVEAL Test & Analysis 
An air sample can be collected in 3 to 4 hours, then sent to Prism Analytical Technologies - the air testing laboratory that developed PREDICT and REVEAL - for a comprehensive analysis. In a few days, you can know exactly what is in the air you and your loved ones are breathing. This extremely sensitive and detailed analysis will help identify the sources of contaminants, odors, and air pollutants, and can even identify problems before they become disruptive.
MY HEALTHY HOME NOTE:
Identification of unknown odors is a difficult task. There are roughly 200 top VOC's that may or may not be the cause of your problem. This type of testing should help determine most of the potentially troublesome gases. We recommend you consult your physician or Environmental physician for correlations between chemicals in the sample and your health concerns. For more information, contact My Healthy Home® at 866-743-8563.