SUPPORT PACKS
In response to many people and health care providers needing more direction in how best to take the supplements recommended on my website, I have developed a protocol with 4 steps. The order these packs are usually taken in are 1,2,3 and 4. But depending on your individual circumstances they can be taken in any order. It would be hard to take them all at once due to the large volume of pills, but step one can be continued while proceeding through the remaining packs.
It is intended that you follow this protocol under the guidance of a physician or health care provider (ie naturopath, chiropractor or nutritionist).
STEP ONE DETOX PACK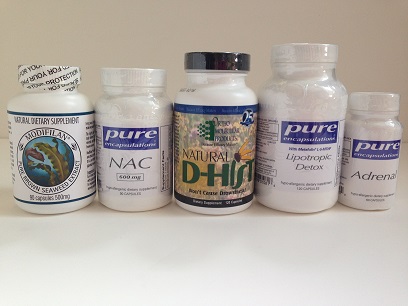 MODIFILAN---- FOR DETOXIFICATION OF MOLD TOXINS> start with 3 capsules in the am on an empty stomach and gradually increase to 6 capsules in the am and 6 capsules at lunch. Continue for one month.
ADRENAL - MAINTAINS PROPER ADRENAL GLAND FUNCTION 1 - 2 capsules twice daily between meals.
NATURAL D-HIST - FOR ALLERGY SUPPORT Start with 2 capsules 3 times daily and continue for 10 days then decrease to 2 capsules once daily for one month.
LIPOTROPIC DETOX - FOR LIVER SUPPORT 1 capsule three times daily with meals.
N-ACETYL-L-CYSTEINE (NAC) 600mg - FOR LIVER SUPPORT 1 capsule 1 to 2 times daily between meals.
This pack is to be continued throughout the whole program.
STEP ONE DETOX PACK 134.00 WITH FREE SHIPPING
STEP TWO ANTIFUNGAL PACK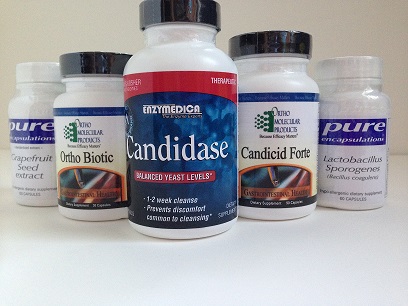 CANDICID FORTE - HERBAL ANTIFUNGAL Start with one capsule twice daily for 3 days, the increase to 2 capsules twice daily for 3 days, then increase to 2 capsules 3 times daily for the rest of the bottle. These may be taken with or without meals
Candidase- ANTIFUNGAL---- includes two enzymes that help control candida overgrowth. Suggested Use: For moderate symptoms, take 2 capsules, 3 times per day at least 1 hour before or 2 hours after a meal for 7 days (for maintenance 2 a day). For acute symptoms, take 2 capsules, 3 times a day at least ½ hour before or 2 hours after a meal for 14 days.
LACTOBACILLUS SPOROGENES - CONTROLS FUNGAL INTESTINAL GROWTH----Take 1 capsule twice daily between meals. May take with the candidase.
GRAPEFRUIT SEED EXTRACT - ANTIFUNGAL 1 capsule 3 to 4 times daily with meals with 6 to 8 oz water. Consult your physician if taking any medications as it will alter the levels of medications.
ORTHOBIOTIC - one capsule daily with or without food at least 2 hours from taking SMI powder, candicid forte and lactobacillus sporogenes.
This pack is only for one month, sometimes you may repeat it again as needed. The only supplement that should be continued throughout the program is orthobiotic.
STEP TWO ANTIFUNGAL PACK 165.98 WITH FREE SHIPPING
STEP THREE HEATHY OIL PACK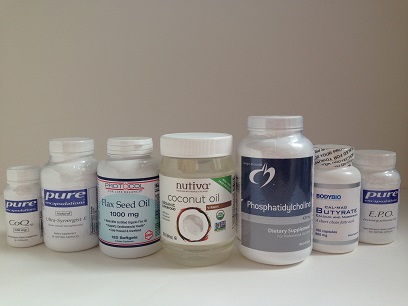 PHOSPHATIDYLCHOLINE - This is the most abundant phospholipid of the cell membrane and protects the liver against toxicity and infection. Phosphatidyl choline nourishes the cell membrane back to health. Taking 9 capsules of this at bedtime gradually detoxifies the liver while supporting cell membrane function.
COENZYME Q 10 For brain support, energy and a powerful antioxidant.
EVENING PRIMROSE OIL - an essential omega 6 that is high in gamma linoleic acid (GLA) GLA is generally depleted in states of toxicity and is supportive to the immune system, brain, skin, GI tract, liver, kidney hormones, heart and brain.
COCONUT OIL - a healthy oil for brain function 1 tablespoon daily mixed in soup, a shake or on bread.
CALCIUM/MAGNESIUM BUTYRATE - Butyrate is a fat soluble nutrient that helps sweep the liver, bile ducts, GI tract and bowel free of fat soluble toxins. It is also a potent inhibitor of ammonia and neurotoxins. The recommended dose is 2 capsules 2 times daily
FLAXSEED OIL CAPS - To be taken in a 1 to 4 ratio with sunflower oil. So take 2 capsules daily with 1 tablespoon sunflower oil. This is a healthy omega 3 oil but in cases of mold toxicity it needs to be balanced with sunflower oil.
UlTRASYNERGISTIC E - Vitamin E is an important antioxidant to take when consuming a lot of oils. It prevents those oils from oxidizing in your body. Take one to two softgels daily.
STEP THREE HEALTHY OIL PACK 205.00 WITH FREE SHIPPING
---
THE ADVICE PROVIDED ON THIS WEBSITE IS INTENDED TO BE USED UNDER THE SUPERVISION OF YOUR PHYSICIAN OR HEALTH CARE PROVIDER.